Kelimcoons Prism of Bigrivercoon x RW SGC Bigrivercoon Flint
Flame is a Black Tortie with white (f09)
Wisdom Health DNA Test Results
Hypertrophic Cardiomyopathy (HCM) MYBPC3 Mutation Negative N/N
**Erythrocyte Pyruvate Kinase Deficiency (Pk_def) Carrier N/K
Spinal Muscular Atrophy (SMA) Negative N/K
*Polycystic Kidney Disease (PKD) Negative N/N
Much to my surprise, Flame is also a dilute carrier, which means we could get some blue and creams from this girl in the future.
Echocardiogram:
9/13/21 NW Cardiology – Dr. Woodfield
Clear and Healthy
Hips:  Rads scheduled for 9/17/21.  Exam looks good and we are still awaiting the official PawPeds rating.
*Maine Coons do not have a specific test for PKD.  The test is conducted using the Persian Breed Testing.
**Two copies of the Pyruvate Kinase Deficiency mutation are needed for a cat to be affected by this condition.  Flame will be bred only to a stud that is N/N for this disease.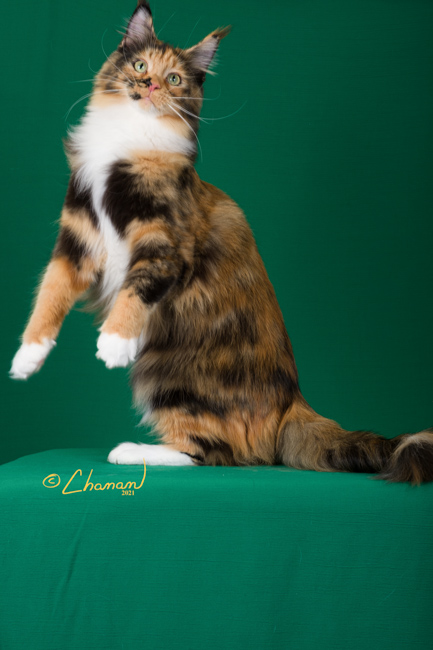 I very excited to introduce this girl.  Still a baby, but I have high hopes for her future.   She is the absolute sweetest girl, constantly purring.
I am extremely greatful to Becky of Bigrivercoon for allowing me the opportunity to have this girl as part of my cattery.
Looking forward to seeing her and Tengri's kittens in 2022! We should get some nice kittens with type and color.
Welcome Home Flame. (Kelimcoons Prism of Bigrivercoon x RW SGC Bigrivercoon Flint)