December 10, 2020 –  Brandy is staying in the cattery, with hopes of becoming a future queen.
Braemble is tentatively scheduled to go live with his brother Whiskey.  Fingers crossed they remember each other and become best buddies once again.
As of September 9, 2020 these three sleepy heads are on hold.
As of September 9, 2020 I am holding 2 kittens for observation.  Those are Brandy and Braemble.  They may become available in late November.
June13, 2020

Daisy x Tengri had 5 lovely kittens. 


2 blues, 3 black silver tabby. 
None are available at this time due to the length of my current wait list.

Those on the list will be contacted once the kittens are old enough for me to take reservations.  

If you have submitted an application, please check your SPAM folders as I have sent out emails requesting confirmation that you still wish to be on the wait list.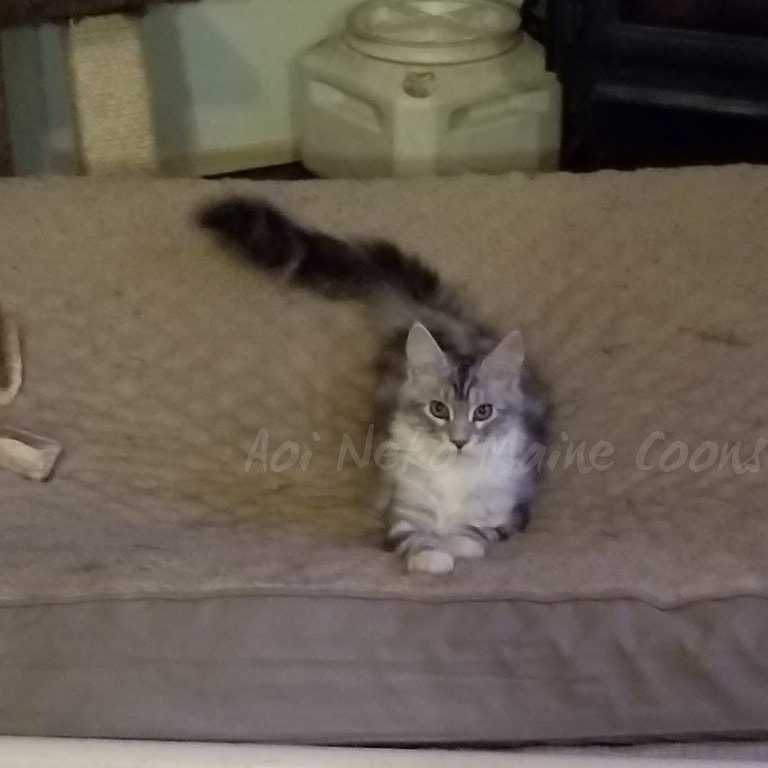 Artemis will be staying here at the cattery. She has the sweetest personality and we have a lot of fun playing fetch. I have been showing her for fun. And when she isn't showing she is Tengri's playmate.

The 2 girls are happy and healthy and will be available for reserve in about a week. they will be ready for move to their new homes just before Christmas.
Sunday September 1, 2019. See below for photos!

Kitten 1: Time of Birth; Unknown. Weight; 113 grams. Color: Silver
Kitten 2: Time of Birth 5:30 pm Weight: 138 grams Color Silver
Kitten 3: Time of Birth 6;19 pm Weight 1112 grams Color: Black?   
Kitten 4: Time of Birth 8:09 pm Weight 129 grams Color: Blue Stillborn 🙁

I'm so incredibly sad we lost the beautiful and only Blue in the litter.. Here's hoping the remaining 3 thrive. More news as they grow.
On 8/20/19 Daisy had her x-rays and it looks like we are expecting 4 kittens. Keep watch for the latest news!
It is with great sadness we report that Kitten #3, our only boy was sent to the angels on October 29, 2019 at 2:00 pm. He was born with an extremely rare birth defect called Peritoneal Pericardial Diaphragmatic Hernia. we tried valiantly for 5 weeks post diagnosis to get him gaining weight for surgery. But he finally said he had had enough and just could not get there. 🙁