My love for Maine Coons began back in the mid 1990s with the purchase of a beautiful blue silver mackerel tabby girl named Smokeycoons Azure Jewel of Firerose. Izzy passed away back on January 3, 2014. a few months shy of her 18th birthday.
My cattery is very small and is Not a business.  I do not breed simplly to sell cats or kittens. My goals are to breed only for myself and to be a small part in preserving the breed I love.  All kittens are first and foremost evaluated for my future goals in my breeding program. Secondly, I may on occassion, place kitten with a breeder I have a personal relationship with who has similar philosphy in breeding healthy, Maine Coons within the breed standard.  Last but not least, kittens will be placed in homes that best fit their personality with the hopes they will be with the family for their lifetime, which I hope is well into their late teens. 
I strive to breed Maine Coons that meet the standards of The International Cat Association (TICA) that are well socialized, happy and free of genetic disorders. So while you may see I have imported cats from overseas, you will not find that extreme European look here. 
I DNA test all my breeding cats through Optimal Selection or UC Davis.  In additional, I have their hearts evaluated by echocardiogram prior to breeding and routinely thereafter.  All cats test results can be found on their respective pages.
The colors I currently focus on are Blue, Black and silver with or without white.   Looking forward to 2022, for some additional colors, with the addition of Flame aka RW QGC BigRivercoon Lite MyFire.  Flame's first litter was born July 8, 2022.  Photos are on the kittens page.
You may catch me at some local Pacific Northwest TICA shows as I have time and if I have cats/kittens to show. Until then, you are always welcome to email us at any time. aoinekomc@gmail.com.
If you would like to apply for a future kitten, please go to the kitten page and complete the kitten questionaire.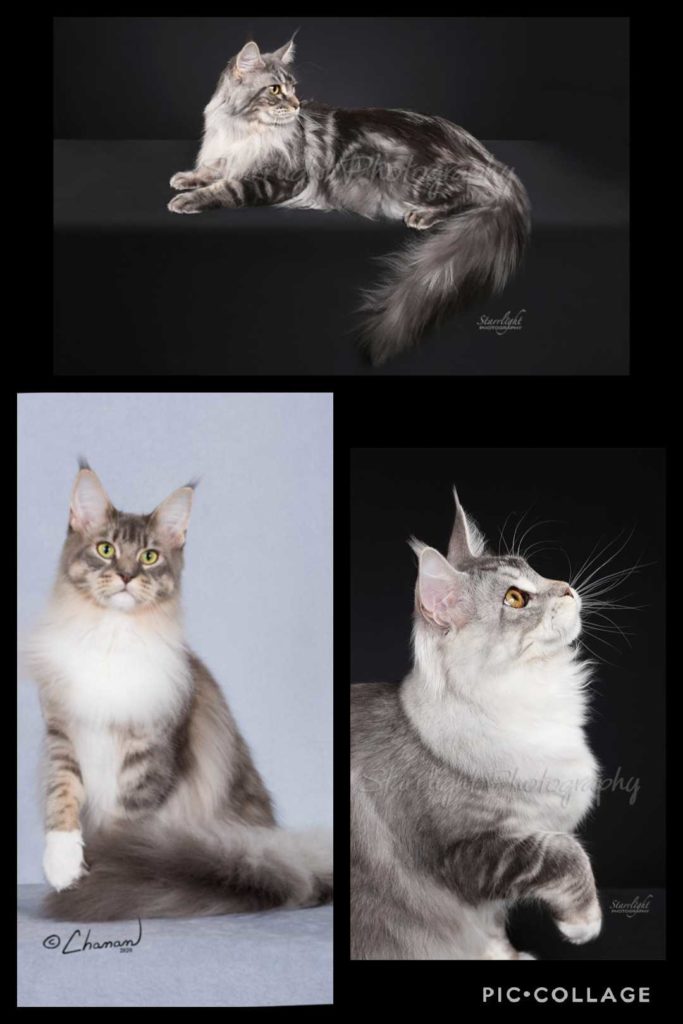 Special thanks to the following Catteries and the ladies behind them for entrusting me with cats from their programs.   I will be forever greatful for your kindness and support and I hope I do your cats proud.
Kimberli Nelson – Pitaracoon Maine Coons – Buckeye, Arizona.
Mariya Podoinikova – Maine Marie Cattery – Oskemen, Kazakhstan.
Julia Eliseeva – Honey Devil Maine Coons – Novosibirsk, Russia. 
Becky Boesch – Bigrivercoon Maine Coons – Washougal, Washington