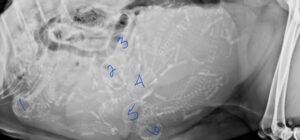 Well, it's Christmas eve and Kumiko is still holding on to those babies 🙂  Maybe we will have Christmas kittens.
The vet says there are 6 little beans in there.  I'm not good a deciphering kittens, but here is my best guess at what he sees.
Finger crossed for a easy and uneventful birthing.